#CPX2016 – Check Point CEO Talks Need For Prevention to Battle Crime
It is time to develop a new security strategy away from detection and more about being proactive.
Speaking in the opening keynote of CPX2016 in Nice, Gil Shwed, CEO and founder said that having the best technology is not enough, and to secure business we need a strategy and remain one step ahead.
Speaking in his session titled "Staying one step ahead in cyber security", Shwed pointed out that he will soon be double the age he was when he launched the company's first firewall in 1993, and now attacks are continuing to grow and we need to do something about it.
Comparing conventional crime to cybercrime, Shwed said that a bank faces a bank robbery two to three times a year and its costs a maximum $10,000 that is kept in a bank, while in cybercrime some banks see an attack 20-30 times per hour on minimum and the damage is way over $50 million. "So it is a faster pace and bigger damage, but try to compare conventional attacks – someone may know how to try to rob a bank on one territory, but in cybercrime they can come from the other side of the world," he said.
"Everyone has access and we are all vulnerable, and we need to adopt a different mindset as in the conventional world we detect with camera, so it is detection and alert. If it doesn't work we watch and punish them and the best tool for fighting crime is deterrence. In cybercrime, we use detection and alerting but malware is evasive, and we know an attacker can be sitting in a different country and continent, and there is no one to punish them and the catch rate is very low."
Sticking with the theme of detection not being enough, Shwed also said that once malware is inside the network, the damage is done, the cost of remediation is high and it is hard to detect and trace, yet 80% of vendors are focused on detection only.
"A different approach is for us to prevent attack with the principle of: block an attack before it happens; defend with the most advanced tools that stop today's attack and tomorrow's threats; and protect every frontier," he said. "Also simplify as you cannot do this with 60 different systems, ten different controls and 50 experts, and you need one system to block an attack before they happen."
Check Point used the conference to announce the release of a new series of appliances for small office, small enterprise and mid-sized enterprise, large to high end enterprise, high end enterprises and data center grade.
He said: "It comes to the way we think and moving from the old to the new world." Strategy was being reactive, now we need to be proactive and be thinking holistically and focus our energy on prevention, prevention, prevention and if we used point and multiple consoles in the past, in the new world we need one consolidated system with single management and we are working hard to make it a philosophy and strategy, but a reality."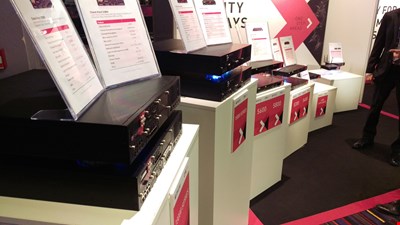 Source: Information Security Magazine