Dark Web Seller Remove Listings after Data Dump
The dark web seller identified as gnosticplayers on Dream Market has removed all listings that were previously up for sale, which reportedly included upwards of 620 million account records.
"All my listings have been removed, to avoid them being bought so many times and being leaked, as a respect for my buyers. But don't worry, next round of breaches coming soon," the vendor wrote on his seller profile.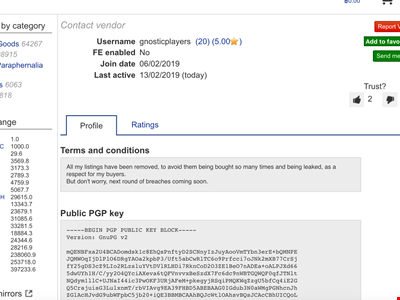 The data trove was reportedly the compilation of information of data that had been stolen in past data breaches. Several news outlets have reported that the data from 16 different hacked websites were part of the massive trove of account information up for sale. According to The Register, those sites include Dubsmash, Armor Games, 500px (as was reported by Infosecurity), MyFitnessPal, MyHeritage and many others.
On February 11, an exclusive report from The Register stated: "A spokesperson for MyHeritage confirmed samples from its now-for-sale database are real, and were taken from its servers in October 2017, a cyber-break-in it told the world about in 2018."
Infosecurity has reached out to many of the listed vendors, including MyHeritage, which has not responded. A ShareThis spokesperson stated in an email, "At this point we are investigating these claims and can come back to you once we have more facts to share."
Armor Games Studio said, "We have started an investigation into these allegations, and we will notify users once we have confirmation and details. That's all we have to say at this time."
Given that 2018 was a record-breaking year for the number of records compromised, it's not surprising that cyber-criminals are leveraging dark web marketplaces to turn a profit on all of that data.
Source: Information Security Magazine