#DPI19: Open Banking and Data Sharing Will Benefit Consumers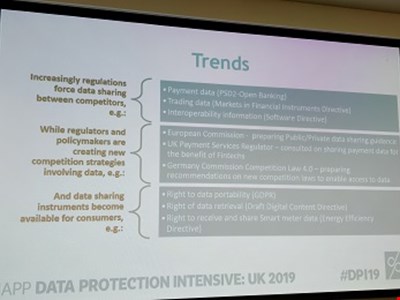 Speaking at the IAPP Data Protection Intensive 2019 conference in London on 'How Privacy & Data Protection are Impacted by Competition Considerations,' Helena Koning, senior managing counsel and data protection officer at Mastercard, said that new rules on open banking are permitting more sharing and reuse "of different types of data whilst respecting the privacy and benefit of consumers."
Saying that data "is not the new oil, but is an infrastructure," Koning explained that data can be used "without loss of quality and competitive edge."
Looking at new initiatives on sharing data and open banking, she said that competition laws are "beefing up with new privacy initiatives," one of which is new payment data standard PSD2 which has "created a new playing field" and has created a change in the policy markets, and this has caused a new way of thinking.
She added: "We see privacy, consumer and European laws moving together to enable choice, and enable innovation." This was predicted to form API-based sharing from the banks into personal applications, which will allow them to become third party data providers. "We will see more 'forced' data portability, and this is good for consumers," she said.
Looking at trends around data sharing, competition strategies and data sharing instruments, Merel Schwaanhuyser, senior compliance and ethics counsel and global data privacy at Accenture, said that these will enable companies to work better together, and boost each other. "All regulations will be based on human rights and freedoms," she said.
Source: Information Security Magazine