Non-UK Far-Right Twitter Accounts Amplify Brexit Messages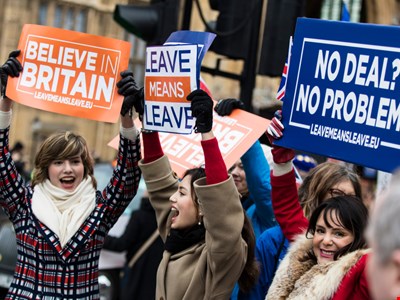 Far right Twitter accounts from outside the UK are amplifying pro-Brexit messages and spreading content from non-authoritative news sources on the network, in what could be a sign of a coordinated misinformation campaign.
As the clock ticks down to EU exit day for the UK at the end of March, F-Secure undertook a detailed study into inorganic activity on the social network. It analyzed 24 million tweets from 1.65 million accounts collected between December and February containing the word "brexit."
Although there was inorganic activity observed on both remain and leave sides of the debate, it was far more prominent among the latter, the security vendor claimed.
Report author, Andy Patel, revealed that leave tweeters are being bolstered by non-UK far-right Twitter accounts, some of which also agitated with #MAGA and #giletsjaunes messages.
They also spread content from non-authoritative news sources such as PoliticalUK and PoliticaLite, which support far-right activist Tommy Robinson, who was banned from Twitter last year.
Taken together, these findings could indicate that "coordinated astroturfing activity is being used to amplify pro-Brexit sentiment," argued Patel.
However, proving this conclusively is challenging given that sophisticated bot automation tools exist today to hide the signs of artificial amplification, for example by queueing posts and interspersing them with 'real' tweets from news sites, he revealed.
In addition, Twitter only allows the last 3200 posts to be collected from any given account, meaning tens or hundreds of thousands of tweets published by many of the suspicious accounts studied for this report are inaccessible.
"Finding [evidence of coordinated pro-Brexit astroturfing] would require additional work – most of the tweets published by this group likely weren't captured by our stream-search for the word 'brexit,'" said Patel.
"It's clear that an internationally-coordinated collective of far-right activists are promoting content on Twitter (and likely other social networks) in order to steer discussions and amplify sentiment and opinion towards their own goals, Brexit being one of them."
Source: Information Security Magazine